Saturday, May 5th: University of Washington Annual Windermere Cup Regatta

The races are held as part of the celebration of Seattle's Opening Day of Boating Season and are followed by the Seattle Yacht Club's Opening Day Boat Parade. More than 700 rowers compete in this prestigious international event, which culminates with the women's and men's Windermere Cup races.
The University of Washington and Windermere Real Estate are excited to host the Argentina National Team, Gonzaga University, the University of Virginia and Oregon State University for the 26th annual Windermere Cup races to be held on Saturday, May 5, on Lake Washington.
Following the races, fans are invited to join the regatta champions for an awards ceremony and presentation of the Windermere Cup Trophy at the Conibear Shellhouse.
Admission to the event is free. Viewing is available on the shores of the Montlake Cut, or by boats anchored to a log boom in Lake Washington.
For more information visit http://www.windermerecup.com/ or the Windermere Cup Facebook page!
Join Us for a Shredding & Recycling Party!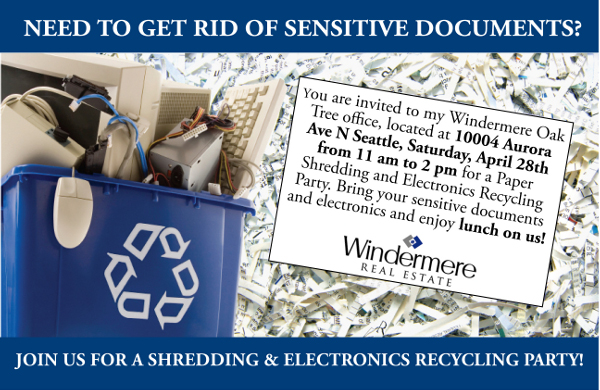 On Saturday, April 28th, from 11 am to 2 pm, we will have two trucks on site to shred your paper material, and recycling electronics.
Items Accepted: desktop and laptop computers, monitors, cell phones, iPods, keyboards, mice, power cables, scanners, copiers, and TVs.
Not Accepted: DVD Players, VCRs, microwaves, stereo equipment, kitchen or other appliances, styrofoam or cardboard.
We will be serving grilled hot dogs and bratz, soda, chips, coffee, cookies, and a smile to thank you for your support!
Windermere Real Estate/Oak Tree, Inc. 10004 Aurora Ave N #10 Seattle, WA 98133 206-527-5250
Posted on March 26, 2012 at 2:31 pm
Renee Roberts
Category:

Seattle Events, Uncategorized
Tagged

computer, electronics, electronics recycling, event, identity, Oak Tree, paper shredding, recycle, television, tv, Windermere